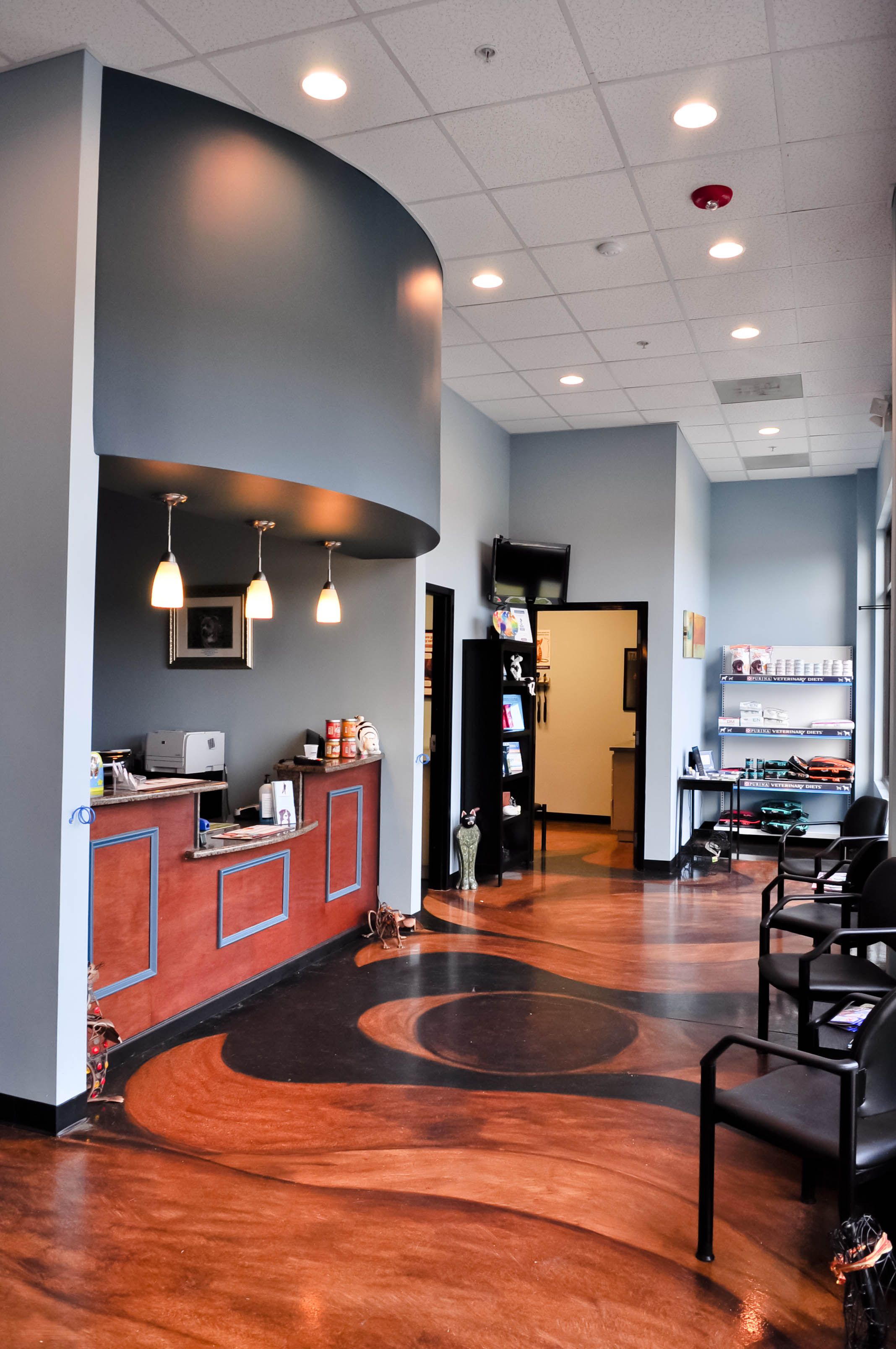 Our reception area is open and full of natural light from the large expansive windows. The light blue paint is calming and relaxing for all.
The bookcase and informational table are full of client materials to take with you. Free information including boarding and grooming facilities as well as area training information. Our reception tables in the waiting room have the latest magazines for clients to read all about their pets (Cat Fancy and Dog Fancy)!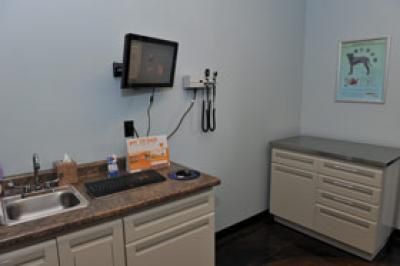 Both of our examination rooms are equipped with exam tables, as well as wall-mounted otoscope/ophthalmoscope for the doctors to be able to check your pets eyes and ears and diagnose with possible diseases.
The computers in the exam rooms are downloaded with a comprehensive software program full of informative videos and pictures of normal and abnormal issues that may be going on with their pet. The exam drawers are stocked full of more informative brochures for clients.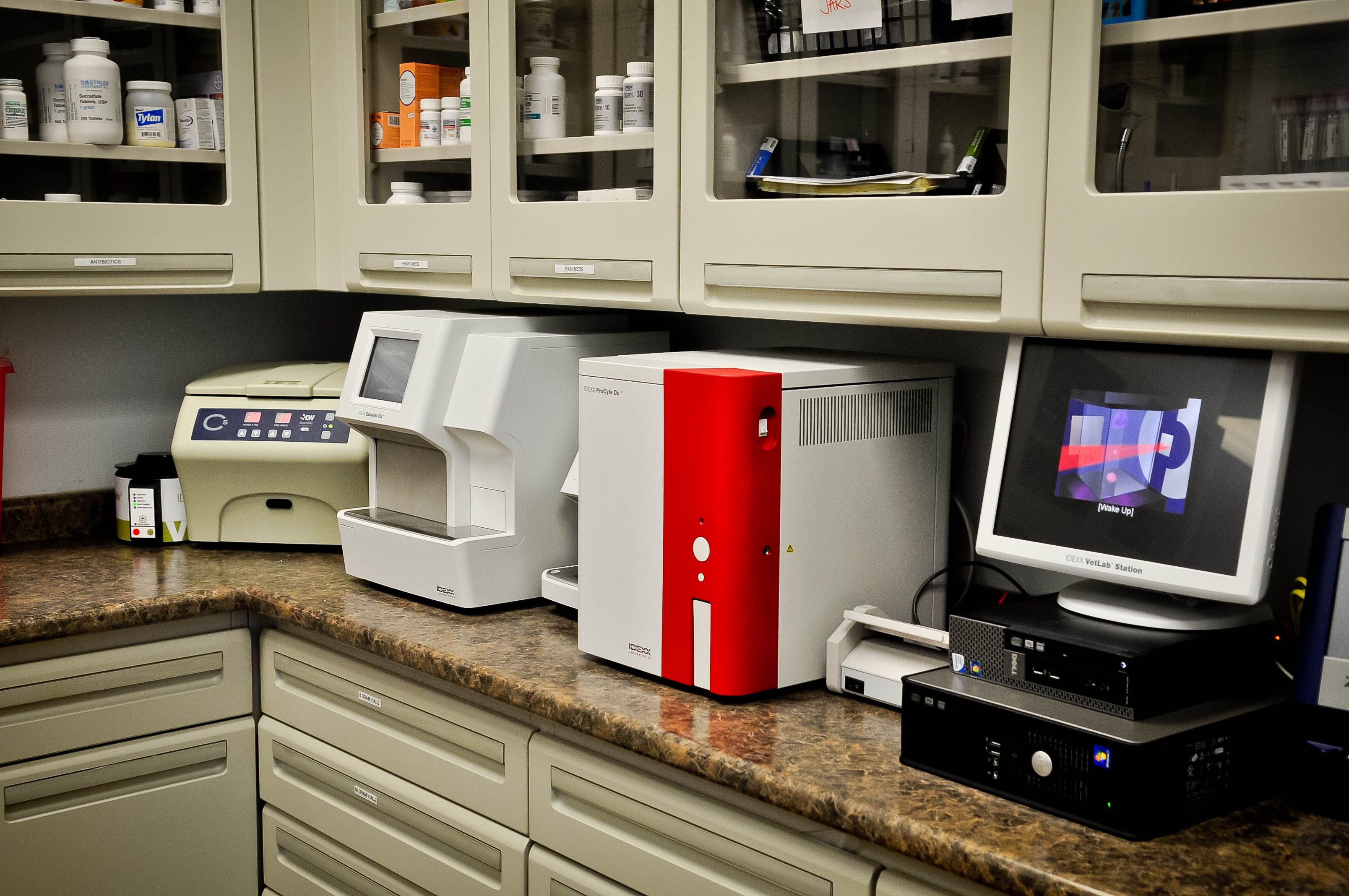 Our in house lab equipment is powered by the Idexx Vetstation. We are able to run full in house diagnostics on your pet including but not limited too, Internal Organ Function Screen, Complete Blood Count, Thyroid test, Heartworm test, Electrolyes, Clotting Profiles, Complete Urinalysis and Sediments.
Our centrifuge machines allows us to spin down blood samples, urine samples and fecal samples for specific laboratory tests. Along with these machines, we also have high-powered microscope to identify different parasites that may be affecting your pets skin, ears, blood or fecal samples.
We have an expansive in-house pharmacy that includes many medications that your pet may be prescribed. We stock different options of antibiotics based on the needs of your pet. If your pet has an eye infection, or ear infection we have medications to treat those. We offer heartworm and flea/tick prevention for dogs and cats. **Due to the overwhelming request of different brands of heartworm and flea prevention, we do not stock all brands. However you will be able to have any of those brands delivered directly to your door by ordering through our online pharmacy.**
Your pet may be prescribed a long term medication, such as a heart medication, thyroid medication, or pain medication, we have several options to suit the needs of your pet!
If we do not offer a medication or you are in need of a refill, we recommend our online pharmacy to be able to have your pet's medication delivered right to your door. You can also have it on a convenient auto-ship and never forget to call and refill it. Check out www.presslyanimalhospital.com or click on the ONLINE PHARMACY tab on the left side menu!